0
Jordan Schroeder going pro?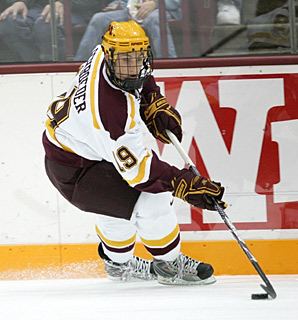 There was a bit of excitement over the weekend as I
over a story that I also tweeted about
regarding Ken Wiebe of the Winnipeg Sun's article suggesting that Canucks first round draft pick Jordan Schroeder may be leaving his NCAA team, the Minnesota Golden Gophers, and
joining the Moose
.
This would follow rumors from
earlier in the season
that Mike Gillis was trying to get Jordan Schroeder to turn pro and sign with the Canucks. Given how much Gillis wants to be 'hands on' with player development, I can't blame him for wanting to do so. Schroeder, to his credit, has remained interested in staying with the Gophers.
A quick explanation, for those who aren't familiar with the varied rules regarding NHL prospects. Schroeder is playing in the NCAA, which has very strict rules regarding professional involvement with their athletes. Players can't sign pro contracts (like the one that Cody Hodgson has, as he plays in the OHL) nor can the club that they are with do anything to help them out. Folks may recall Pat White and Cory Schneider, two other Canucks NCAA draft selections, having to pay their own way to the Canucks Prospects Camp from the last couple of years. Despite paying their own way there, they couldn't accept any gifts (such as a jersey with their name on it) or any sort of payment from the Canucks. Heck, NCAA players aren't even allowed to have agents, although most players circumvent that by having 'family advisors'…who just happen to be sports agents. Regardless, dealing with and communicating with a prospect that is in the NCAA system can be hard due to the rules the NCAA has.
It makes sense, then, that Gillis wants Schroeder to go pro. It makes it far easier to communicate and manage the prospect, as he won't be hampered by NCAA rules. However, were Schroeder to go pro and sign with the Canucks, it would close the door on ever returning to the NCAA. Schroeder has stated in the past that
he remains committed
to the Gophers, answering Internet rumors from last year that he was poised to jump ship mid-season. His father
also commented back in August
that the rumors of his signing with the Canucks were false.
However, these rumors refuse to die, which would indicate to me that Gillis is still trying to pursue this. I'd also point to an interesting quote from his father in the last article, where he stated that, "We've told [the Canucks] he's going to go back to school for another year. He'll be a leader on his team and can work on some things, like his shooting. He can grow in maturity and be ready to step into professional hockey at the end of the season."
End of the season. Hmm. Not finishing the typical four year NCAA program. Well, we are at the end of the season now and speculation is starting to ramp up. For good reason, too. The Golden Gophers have fallen on hard times, with several high profile first rounders leaving the program early. The biggest name out of the bunch, arguably, was the New York Islanders draft pick Kyle Okposo. Isles GM Garth Snow
wasn't happy with the development of his prospect
, as he said to the Minnesota Star-Tribune:
"Quite frankly, we weren't happy with the program there," Snow told the paper. "They have a responsibility to coach, to make Kyle a better player, and they were not doing that."
He continued, "[Okposo] just wasn't getting better – bottom line. And to me, that's the frustrating part. We entrusted the coach there to turn him into a better hockey player, and it wasn't happening. We feel more comfortable in him developing right under our watch."
"Whether it was Kyle or another player, until things change in that program we'd probably make the same decision," Snow told the Star-Tribune. "There should be a coach there that looks in the mirror. … I don't think we'd be at this point if he was being coached properly."
Other notable players that have left the Gophers program early include Phoenix Coyotes 1st round draft pick (and subsequent Bruins signee) Blake Wheeler and St. Louis Blues first rounder Erik Johnson, who left after one year. In Johnson's case, at least, it could be argued that he decided to go pro because he was guaranteed a slot with the Blues. Okposo and Wheeler, though, are interesting situations.
Schroeder hit a bit of a bump this year, his 8 goals and 27 points this season are lower than the 13 goals and 45 points he produced last season. Whether that's because of teammates like Ryan Stoa leaving the squad, injuries to his linemates, coaching or a sophmore slump is up for debate, but it doesn't look like Minnesota is where Gillis wants Schroeder to be.
It's also interesting to note that when Sportsnet's Dan Murphy
blogged about this back in August
, he speculated that the reason why the Canucks want him to leave Minny is because they aren't happy with the program. Murph also went on to say 'And if Patrick White is staying in Minny, then that might also tell you how the Canucks feel about him and his progress within the Gophers system.' Pat White was, of course, handed off to the Sharks days later in the trade that brought Christian Ehrhoff and Brad Lukowich to the Canucks. Sidenote: I'll admit that I was rather optimistic about White and felt that the Gophers might be the right place for him to develop. Sort of missed the boat on that one, oops.
The Canucks have had a lot of success when dealing with players from the NCAA. Past draft picks who have enjoyed success with the Canucks franchise include Ryan Kesler, Kevin Bieksa and Cory Schneider. If the Gillis and company are pushing hard for Schroeder to go pro, it's probably because it is in his best interests.