1
30 Players to Watch
Posted by
Jason Chen
, 22 September 2010 · 616 views
It won't be long before Ducks fans forget that there was another number 9 before Bobby Ryan. Ryan ranked third among Ducks forwards in hits and had almost half the giveaways Ryan Getzlaf and Corey Perry had while posting more takeaways. Ryan, a natural right winger, has had to shift to the left to play on a line with Perry and Getzlaf but it hasn't diminished his production at all, posting a team-high 35 goals last year while also putting up 81 PIMs. Ryan's not a sniper but he's got great hands for a big kid (6'2", 208) and 40 goals is possible.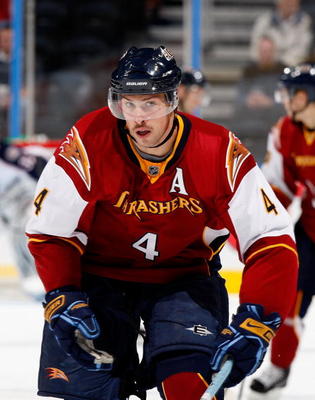 Zach Bogosian is not the Thrashers' best player yet but he certainly will be by a significant margin. Bogosian had a team worst -18 among all Atlanta defenseman but he also potted a team-high 10 goals while playing over 21 minutes a game. With the departure of Pavel Kubina to Tampa Bay, Bogosian will have an even bigger workload ahead of him. 40 points from Bogosian isn't unrealistic, given he will undoubtedly be Craig Ramsay's top powerplay quarterback. He is the future Thrashers captain.

After posting 31 goals in his third season in the NHL, the Panthers thought they finally had a marquee player but injuries and inconsistency have plagued Nathan Horton since. With more quality players surrounding him and a chance to compete in the playoffs, Horton may finally blossom into consistent goal-scorer worthy of a third overall pick title. If Horton can stay healthy, he could potentially pot 35 goals for the Bruins after putting up 20 in 65 games last year with little help. At age 25 he's just entering his prime and may be the answer Boston needs to correct their scoring woes.

There's not much to get excited over in Buffalo other than Tyler Myers, the league's top rookie last year. The Big Easy played in all 82 games last year and was just as valuable to coach Lindy Ruff as Ryan Miller and both will have to continue their strong play from last year after a humdrum offseason in which the Sabres didn't make any major moves. It remains to be seen whether or not Myers will escape the sophomore jinx but the Sabres are certainly hoping he does given their depth on the blueline.

If there's any Flame right now that's confident in his ability it's Mark Giordano. After posting 15 points in 48 games in his rookie season Giordano spent a year in the KHL after he could not come to terms with the Flames. Giordano came back and appeared in 58 games the following season and notched 19 points but slowly became one of the Flames' most dependable defenders. Last season he led all Flames defenseman in goals (11), points (30), +/- (+17), PIM (81), but still had less ice-time than Robyn Regehr and Jay Bouwmeester, who looks more and more like the next Wade Redden. This season he will be the Flames' best defenseman and he earns about $6 million less than Bouwmeester.


The one to watch in Carolina is obviously Jamie McBain. An early Calder favourite, the former 2nd round pick in 2006 may turn out to be the second-best defenseman taken in that draft after Erik Johnson. A late season call-up, the offensive-minded McBain posted 40 points in 68 games for Albany in the AHL and continued his strong play at the NHL level with 10 points in 14 games and averaged over 25 minutes a game. A former Hobey Baker candidate, the NCAA's award for the top collegiate player, McBain comes from a winning program at Wisconsin which has already produced Gary Suter, Chris Chelios, and Brian Rafalski.

While the world's eyes are on Patrick Kane and Jonathan Toews, Niklas Hjalmarsson is the Hawks' most intriguing player. San Jose GM Doug Wilson made an offer sheet to Hjalmarsson over the summer which the Hawks quickly matched and promptly lost Antti Niemi. That Stan Bowman was willing to let their Cup-winning goaltender walk for a second pairing defenseman should tell you how highly everyone thinks of Hjalmarsson. A quick glance at Hjalmarsson won't wow anyone, but watch him closely and you'll notice that while he doesn't excel at any one particular area (yet) he's a very dependable, all-rounded defenseman in the Mattias Ohlund mould but with better mobility.

As much as Craig Anderson was vital to the Avs' success, so was Kyle Quincey. While Chris Stewart and Matt Duchene no doubt helped on the offensive end, no one was more vital to his position than Quincey. The major piece going the other way in the Ryan Smyth deal that sent Captain Canada to Hollywood, Quincey has become the Avs' best defenseman and a favourite of Joe Sacco's, leading the Avs' defensemen in ice-time with 23:36 per game. Quincey led all Avs defensemen in hits (115), shots (139), and becomes the team's best shot blocker after Brett Clark signed with Tampa Bay.

When Kris Russell first broke into the league, he was 5'10" and 160 lbs. soaking wet. Since then, Russell now has 3 full seasons under his belt and bulked up to 185 lbs. While most defenders spent their first few years as a pro in the AHL, Russell stepped into the Blue Jackets' lineup right away and while he wasn't impressive, he certainly wasn't overwhelmed either. It's been baby steps for the puck-moving defenseman and this season may be his breakout year. Russell led Columbus defenseman in goals (7) last year and finished tied for 2nd best on the team in plus-minus.

While Russell's NHL career has been slow and steady, Matt Niskanen's has been the opposite. The former 28th overall pick notched 26 points and an impressive +22 in his rookie campaign and followed that up with a 35-point sophomore effort under Dave Tippett. But Niskanen took a giant leap backwards after notching only just 15 points and posting and even uglier -15 under Mrac Crawford while Stephane Robidas posted the highest total of his career. For now Niskanen seems to be buried in Crawford's depth chart but it won't be long before he emerges again.


Last year was supposed to be Valteri Filppula's breakout year but he was sidelined by injuries and appeared in just 55 games although he did post a respectable 35 points in that span. With the return of Jiri Hudler and Johan Franzen healthy again, Filppula may finally blossom into a 25-goal scorer everyone knows he can be. This is the player, after all, who had 9 points in 12 playoff games last year and 16 in 23 games the year before that. If Filppula can find his game and stay healthy the Wings are going to be one of the West's toughest teams.

Everyone knows to watch Taylor Hall, Jordan Eberle, and Magnus Paajarvi, but the Oilers' best player is still Ales Hemsky. After scoring 22 points in 22 games, Hemsky's season ended following a shoulder injury as a result of a check from Michal Handzus. Over the past five years Hemsky has actually been one of the league's more consistent players, posting 289 points in 313 games. Given the goal scoring talents of Eberle and Hall, Oiler fans should be excited about what sort of numbers Hemsky can post this year.

It'll be another trying season in Florida as Dale Tallon tries to right the ship. Up front the Panthers feature a mish-mash of has been's, never were's, and never-will-be's, but the blueline has a diamond in Dmitry Kulikov. The sophomore defenseman enters the season as the team's number two quarterback behind Bryan McCabe after a solid rookie season with 16 points. With 3 of the Panthers' top 4 defenseman from last year not returning, the former Voltigeur standout will be counted on to fill the void.


He hasn't quite made the team yet but he's not going back to Brandon, that's for sure. With 99 points in 59 games for the Wheat Kings Brayden Schenn has already proven that he's head and shoulders above everyone else in the CHL. Schenn is ineligible to play in the AHL because he's 19 and has less than 4 years of junior hockey experience under his belt. It remains to be seen what GM Dean Lombardi wants to do with Schenn but sending him back to junior hockey might stall his development. At this point Schenn needs to play against better competition to get better and for now the only option is the NHL.

The Wild are the cautionary tale of a team rushing its prospects with former first round picks Colton Gillies (16th overall, 2007) and James Sheppard (9th overall, 2006) yet to make a significant impact at the NHL level. While GM Chuck Fletcher has a nice pair of young defensemen in Tyler Cuma and Marco Scandella, both are better off in the AHL for the moment. The key player to watch is Brent Burns, whose injuries have derailed a promising career after posting 43 points and +12 in 82 games in 2008. Since then, Burns has amassed just 57 points and -22 in 106 games over two seasons.

Asides from Jaroslav Halak, the only player to excite Habs fans is Pernell Karl Subban. The OHL All-Star didn't miss a beat in his first full season in the AHL, collecting 53 points in 77 games with Hamilton and made a slick transition to the NHL with 8 points in 14 spectacular playoff games. Oozing just the right amount of confidence and poise, the playoffs were as much as a coming out party for Subban as it was for Halak. With Andrei Markov sidelined for at least the beginning of the season, Subban is the Habs' powerplay quarterback and he won't disappoint. It would be silly to suggest that Subban's NHL career would be without hiccups but he is a special player.

The Preds are top-notch at bringing in prospects at the right time and with Colin Wilson becoming the team's potential number one center, the time was ripe to trade Jason Arnott and usher in Shea Weber as the team's new captain. The former Boston University standout had 34 points in 40 games with Milwaukee before David Poile decided Wilson was ready for the prime time. Wilson certainly has the talent and work ethic (father Carey owns a hockey school and grandfather Jerry was a NHLer-turned-doctor) to be the marquee forward Nashville has been looking for since the franchise's inception.

If you're wondering about how the Devils are going to move the puck up the ice without Paul Martin, look no further than Andy Greene. After four years with Miami-Ohio University, the Devils signed Greene as an undrafted free agent and he has done nothing but get better every year. Lost in all the hype around Ilya Kovalchuk was Greene's production last year: 37 points in 78 games, more than the likes of Jack Johnson, Ed Jovanovski, and Rob Blake, and for less than $800,000 a season.

In midst of the talks of John Tavares, Kyle Okposo, Matt Moulson, and even Rob Schremp, Josh Bailey is often forgotten. While many on Long Island have moaned and groaned about Bailey's slow development, the truth is he's gotten better with every game and is poised to break out in his third full NHL season. A ten point improvement from last year was a good sign, especially going from 7 goals to 16 and Bailey will be only 22 years old when the season starts.


Blink and you'll miss #36, the diminutive 5'7" Norwegian winger Mats Zuccarello-Aasen. In just his second season with Modo of the Swedish Elite League, Zuccarello-Aasen notched 64 points (41 assists) in 55 games and won the Guldhjälmen, the Elitserien's MVP award. He turned heads during the Olympics and emerged as one of the tournament's best players against stiff competition and sparked a bidding war in which the deep-pocketed Rangers won. However, Zuccarello-Aasen still has to win a roster spot and only 2 of the past 10 Guldhjälmen winners (Henrik Lundqvist, Kristian Huselius) have gone on to have NHL careers.

Forget about Brian Lee, the future of Ottawa's blueline rests on the shoulders of Erik Karlsson. After making the roster with a great training camp, Karlsson was sent down after just nine games, only to be called right back up after posting 11 assists in 12 games with Binghamton. Since then, Karlsson has not looked back and the hard-shooting right-hander notched 26 points in 60 games, including 6 in as many playoff games. While the acquisition of Sergei Gonchar somewhat diminishes Karlsson's impact on the Ottawa powerplay, it'd be hard for coach Cory Clouston to not play him.

With the Flyers, what you see is what you get. They're tough, mean, and nasty to play against. But lost in all the fists and bruises is Claude Giroux, the winger turned centre who received rave reviews for his play last year despite putting up just 47 points. It was in the playoffs where Giroux shined, putting up 10 goals in 23 games to lead the Flyers into the finals. GM Paul Holmgren expects Giroux to continue what he started and may become the Flyers' best playmaking center, which could allow Peter Laviolette to move Jeff Carter to the wing alongside Mike Richards.

The Coyotes realized they rushed Kyle Turris when struggled in his rookie season. But after one full season with San Antonio, Turris is poised to make the jump yet again. The third overall pick in a star-studded 2007 draft, Turris is perhaps the best goalscorer of the top three picks (Patrick Kane, James van Riemsdyk) and the Coyotes may need plenty of that if there collection of mid-level scorers can't produce. With Dave Tippett Turris is certainly in the right hands.

There is no winger to speak of this year in Pittsburgh because Sidney Crosby has proven he doesn't really need one. Replacing Gonchar, however, was a different story and in his place steps Paul Martin. The former Devil had a frustrating year, limited to just 22 games with a broken arm that also cost him a spot on the US Olympic team. Martin has never posted more than 5 goals or 37 points in any given season but with Pittsburgh's star power that might change.

There's Jamie McBain, Dmitry Kulikov, Zach Bogosian, PK Subban, and Erik Karlsson. Then there's Jason Demers. The least heralded of the six, Demers is expected to fill the void left by Rob Blake on the San Jose powerplay along with Marc-Edouard Vlasic. The 186th overall pick in 2008, Demers made a successful transition from the QMJHL to Worcester where he put up 48 points in 103 games. GM Doug Wilson has already signed him to a two-year extension worth $2.5 million that kicks in the 2011-2012 season. Not only is Wilson that eager to retain Demers' rights, he's willing to bet he's worth that money too and given Demers' production he might be one of the best bargains.

Patrik Berglund's sophomore production fell 21 points amidst a season of friction between him and former coach Andy Murray. With Davis Payne behind the bench, more emphasis on an attacking style may better suit the Swedish playmaker. The entire team, other than TJ Oshie and Erik Johnson, took a step backwards last year and Berglund, who is a RFA at the end of the season, will be motivated to perform.

Brian Lawton left some usable pieces for Steve Yzerman, the most significant being Victor Hedman. A much-hyped rookie season fell flat on its face as Hedman was never in the running for the Calder. However, 20 points is a decent total for a rookie blueliner but much more will be expected from him. Bringing back Pavel Kubina lessens the load on Hedman's shoulders but he is still the Lightning's defenseman of the future.

Tyler Seguin is forever going to be linked to Phil Kessel, for better or for worse, but the player to watch in Toronto is Dion Phaneuf. Brian Burke's big acquisition last year was a good one but now the Leafs captain will have the world's biggest microscope on him. Phaneuf was on his way to superstardom after a 60-point, 182-PIM campaign but has since failed to re-capture that magic and notched only 2 goals in 26 games for the Leafs despite firing more shots than he ever has.


When Mason Raymond first broke into the league, the blistering speedster didn't quite have the hands or smarts to catch up to his feet. But everything came together last year and Raymond made a 30-point improvement and more than doubled his previous goal total to 25. With an established chemistry with Ryan Kesler, the duo is arguably the fastest in the league and 30-goals each isn't out of the question.

The race for the Calder is the race to watch this season and add John Carlson to that list. The hero in the US' win over Canada at the World Junior Championships, Carlson finished with 39 points in 48 games with Hershey and 4 points in 7 playoff games with the Capitals. Of all the young defensemen mentioned here, Carlson and Bogosian have the most upside by far and with him the Caps may not only boast the league's most dangerous forwards but also the league's most dangerous defensemen with Mike Green.