Vancouver Canucks Trade Deadline: Analysis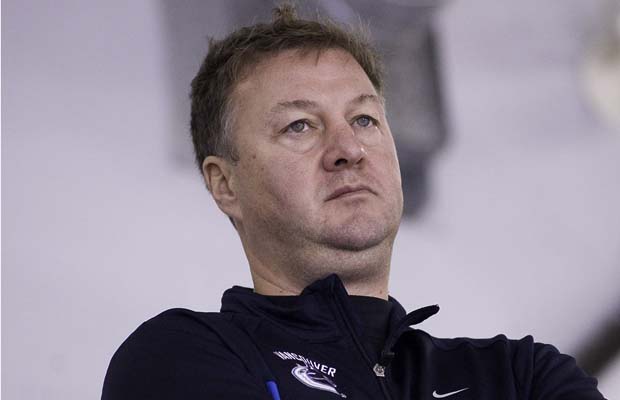 Mike Gillis didn't go hog wild on the trade deadline, as he continued to play a conservative game with his picks and prospects. While his contemporaries were doling out 2nd rounders like candy, Gillis, who didn't have a 2nd rounder in this year's draft, decided to be a little more creative with his wheeling and dealing, heading over to the bargain bins of the various NHL teams.
Gone are Mathieu Schneider, PC Labrie and a 3rd round draft pick.
Coming in are Yan Stastny, Andrew Alberts, Sean Zimmerman and a potential 6th rounder.
While many fans are going to be upset that Mike Gillis didn't make a huge deal and bring in a Dan Hamhuis or another similar 'marquee' player I'm impressed with the way Gillis handled his assets. Effectively, the only thing of value he gave up was the third round draft pick.
Labrie was a big, physical player who didn't have a future beyond continuing to play on the Manitoba Moose's third line. He had no NHL future and I doubt he would've been retained by the Canucks past this season. In many ways, this deal was similar to the one Gillis made with Phoenix at the draft, where he dealt Shaun Heshka for a 7th rounder. Turning nothing into something, specifically Yan Stastny? I like it.
Mathieu Schneider's relationship with the Canucks was going to be sour and he had played his last as a Canuck back when the whole drama bomb dropped earlier in the season. He was another asset that had no value to the Canucks and the fact that Gillis was able to pawn him off for Zimmerman and a potential 6th rounder is another case of turning nothing into something.
Is it a case of spinning straw into gold? Doubtful.
Now, for the players coming in.
Yan Stastny probably is going to be Moose fodder. He really doesn't have the size to hang in the Canucks bottom six, but he's shown that he can contribute as an AHL-level scorer. I imagine that this is being done to help out the Moose, as they've struggled offensively so far this season. Eric Walsky, one of Gillis' NCAA free agent signings last season, has turned into a rather colossal failure as he went stone cold and was relegated to the Canucks ECHL affiliate, the Victoria Salmon Kings. The one thing I like about this is that this potentially opens the door for Gillis to bring up someone like Grabner or Shirokov without significantly impacting the Moose's offensive punch. Roster restrictions have now been lifted so the only real concern is fitting underneath the salary cap. Being able to bring up someone like Grabner while keeping the Moose competitive is benefits both teams and keeps Craig Heisinger (GM of the Moose) happy.
Sean Zimmerman looks like another AHL bound player who may potentially be an upgrade over Aaron Rome. The Moose have been savaged with blueline injuries and callups this year, so giving some stability on the backend will help them out. It's not much, but it helps to make the Moose more competitive which will help with the overall development of Canucks prospects.
The last deal, Andrew Alberts was a good, inexpensive stopgap to bolster the Canucks defensive depth. He's big, he hits and he's a +4 on a horrible Carolina Hurricanes team. He also blocks shots and is signed past this season. Gillis has stated that he doesn't believe in rentals and if he's targeting a player he wants someone who can contribute into future seasons. Since Alberts is signed past this season, he fits Gillis' trade deadline philosophy. Most importantly, it will get one of Rome or Baumgartner off the roster.
I do have to wonder, though, if this means that this might be the last we'll be seeing of Shane O'Brien in a Canucks uniform after this season. Both are making roughly the same salary, are big bottom pairing guys. While Alberts has the edge in points, SOB is known for being a character guy and is a better fighter. If anything, this will hopefully keep O'Brien motivated. I know many folks aren't a fan of SOB, but I don't mind him in the role he's in. It's when he's expected to fill a role greater than a 5th or 6th dman that problems typically arise. Alberts, theoretically, might be able to serve as a fill-in in the top four a bit better than SOB. He's also more of a physical player than Shane O'Brien: his 178 hits are almost double of Obie's 94.
Alberts also has spent time on the PK this season, so he might be used in that capacity. He's not Dan Hamhuis, but Alberts will get the job done.
As for what Mike Gillis didn't do?
Jason Botchford tweeted that Nashville was wanting Cody Hodgson in exchange for Dan Hamhuis. While I like Hamhuis, trading the Canucks top prospect for a rental player would've been the height of idiocy. I also think the rumors of this 'rift' with Gillis and Hodgson is a bunch of BS, as some folks would lead you to believe Gillis couldn't wait to rid himself of the youngster.
Cory Schneider and Michael Grabner continue to be part of the Canucks organization as well. I still think that Schneider has one more year with the Canucks: he'll come up and serve in a backup role for the Canucks next season when his expensive ELC will be burnt off. It'll make it easier to fit him on the roster and be a cheaper option for teams looking for goaltending. With Grabner, who showed promise in his brief stint in December, I'm glad Gillis managed to hold onto him as I think he'll be sticking with the roster next year.
Canucks also retain their first rounder. Given Gillis' intentions on bolstering our prospect cupboard, I'm happy that Gillis has hung onto the first rounder as the Canuck are without their second rounder this year. Having those building blocks available are important.
I'd imagine Gillis will be more active and involved next season at the trade deadline than he has the past 2 seasons. While many fans aren't going to be happy with Gillis' moves this trade deadline, I can't really fault him for what he did: he bolstered the blueline, gave the Moose some flexibility, used up some valueless assets without giving up anything significant.
Trevor Presiloski is an avid Canucks fan, formerly based in Toronto, now in Calgary. You can read more of his thoughts, Canucks and otherwise, on his blog the Internet Trashcan. You can also follow him on Twitter, @nettrashcan
---