Oooh, Pavol!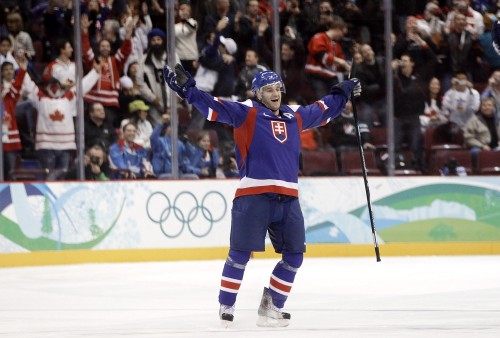 So the Olympics are over. Boo. Now, everyone has to go back to watching mighty teams like the Carolina Hurricanes and the Toronto Maple Leafs battle it out for the right to lay sole claim to the NHL's basement.
But before we get into that, everyone's still basking in the glow of Team Canada's victory on Sunday. I'd just like to point out that I more or less correctly called how things would go for Canada to get to the gold medal game (Slovaks scoring the upset over Sweden, Russia having problems and Canada coming out huge against them.) Sometimes a blind squirrel finds a nut!
While everyone's focused on Roberto Luongo's performance as a goalie (my opinion? He finally cemented himself as a legitimate big game/name goaltender) I thought I'd go in another direction and focus on another Canuck who had a huge Olympics. Pavol Demitra, who led the tournament in scoring and led Slovakia to their highest ever finish at the Olympics (and losing in what could only be described as a heartbreaker of a loss) is going to be having some mighty high expectations now that we're going back to NHL hockey.
I think it's a little unwarranted, Demitra has played well (when healthy) when given the opportunity. See last season with Kesler and Sundin. This year he only played a handful of games prior to the Olympics and had to do it with the likes of Steve Bernier, Kyle Wellwood and Tanner Glass. All players who are a far cry from the likes of Gaborik and Hossa and even Handzus.
Recent reports indicate that Demitra has been promoted to the second line, so Demitra's got every opportunity to succeed coming out of the Olympic break. Good, says I. Although I'd argue that there's something else head coach Alain Vigneault could look at if he really wants to make the most of the Slovak one: put him on the penalty kill.
I don't know if anyone noticed, but Demitra was logging some icetime on the penalty kill. Demitra led the Slovaks in icetime amongst forwards (three guesses as to who led icetime overall for Slovakia. Hint: he's big and plays for Boston) and part of that icetime came from being played on Slovakia's special team units. Powerplay AND penalty kill.
The Canucks penalty kill is a little woeful right now, ranked at 80.8% efficiency which is good for 20th overall in the league. It's been one of the Canucks weaknesses this season and something that Alain Vigneault should be looking at improving. Ryan Johnson, for whatever reason, hasn't been working out, as I've elaborated in the past, and I feel that his play on the penalty kill especially has been dragging down the Canucks numbers.
So why not mix it up? Interestingly enough, despite having over 120 minutes of PK team in the last three seasons with Minnesota and Los Angeles before becoming a Canuck, coach AV really hasn't utilized Demitra on the penalty kill. Last season, Demitra had a whopping 5:58 of icetime killing penalties and was averaging only 5 seconds a game, a far departure from the past three seasons. I guess Vigneault wanted to try and get all of his players engaged in the game last season, which is why he leaned on guys like Johnson, Pyatt and Hansen for his second unit penalty kill. Pyatt, whose skill on the penalty kill made him a useful asset to the Canucks last season, is gone and the PK has suffered as a result, having dropped from 16th overall to 20th. Having the 16th ranked rated penalty kill is really nothing to brag about, but the Canucks should be looking at improving things any way they can.
Demitra could do that and it could benefit the Canucks as a result. Giving icetime to someone who has been playing as lights out as Demitra has is never a bad call and would make him feel happy about being utilized. Additionally, given Demitra's offensive prowess the Canucks second unit PK could really try and force the issue and try for short handed goals. Mason Raymond, who isn't a complete stranger in his own end, could make for an interesting PK unit against weaker teams. Think along the lines of how Pavel Bure used to operate as a 'penalty killer.' Conversely, Demitra and Hansen could also work well together playing in a more traditional PK role.
Heck, keep him as a winger on the PK and let Johnson come in, if Alain Vigneault still insists on that particular course of action. Bottom line, I'd like to be seeing Demitra on the penalty kill, especially since powerplay minutes are probably going to be split between him and Samuelsson. It keeps him active and could end up helping out the Canucks as a result.
Win/win, if you ask me!
---