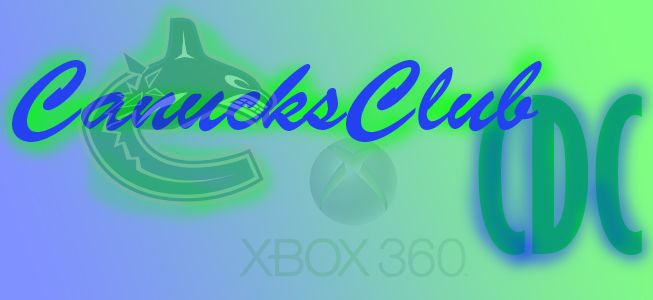 CanucksClub returns for a second season! Past members include Blomqvist, gmen81, Chris_P, and even more.
Rules are simple in our team: Don't be a puck hog, be a team player. Be respectful to all members even when they mess up.
We'll be a pretty casual team, we'll play sometimes and we'll try to win whenever we can.
Club Link: http://www.easportsw.../23102/overview

Roster:
LW, LD, Nathan MacKinnon [GT: Dodedede16]
C, RW, RD Blomqvist [GT: Michaeltr0n]
LW, RW Ryanstorm [GT: Proto5un]
RW, RD kcanuck98 [GT: RW98]
LW, RW Number14 [GT: Bowlblaze420]
C, RW, LD JoeJoeyJoel [GT: C0NSER]
C, RW darrenyip [GT: Go Easy Fool]
C, LW, RW Non-CDC Member [GT: hockeymonkey95]
C Ron Burgundy [GT: xI Ballz Plz Ix]
C, RW Jay Jay Sea [GT: GenusEpaculater]
Management:
Owner: UMADBRO?
General Managers: Nathan MacKinnon, Blomqvist
Captains:
Captain: Blomqvist
Assistant Captain: Nathan MacKinnon
Assistant Captain: Proto5un
Edited by Nathan MacKinnon, 30 January 2013 - 09:02 PM.