Balpreet Kaur, Sikh Woman, Proudly Sports Facial Hair In Accordance With Her Faith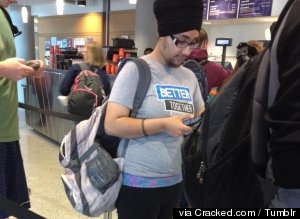 Warning -

Nasty or prepubescent jokes or comments will be reported to the moderators as attempts to provoke and incite.
Please do not post in this thread if you're not grown up enough to not snicker or make fun of the subject of this thread. Thank you.
So, as I am wont to do at times, I was scanning news sites to see what's what out there and I came across this thread about a douchebag who had posted a picture of Balpreet Kaur, a young female Sikh college student. The OP's username is literally 'european_douchebag'. A username he certainly lived up to.
The thread was created in order to laugh at her because she happened to have facial hair. I have to admit in all honestly, at first I had to do a double take. Facial hair on a woman isn't unheard of, i'm lookling at you ladies of Italian descent....you know what I speak of.
, but it still isn't something that perhaps i'm used to seeing on a daily basis(I don't know how better to state it). However, I also knew that Sikhs, particularly baptized Sikhs, such as Balpreet here, don't cut their hair, as it's a tenet of their faith.
I figured it was just going to be a thread filled with pointing and laughing and all the juvenile crap that one is used to seeing on Reddit......and true to Reddit, there was.
But....
....much to my surprise there was also a post written by Balpreet, identifying herself as the girl in the picture and acknowledging the taunts with a most eloquently remarkable response to the OP, as shown here:
Hey, guys. This is Balpreet Kaur, the girl from the picture. I actually didn't know about this until one of my friends told on facebook. If the OP wanted a picture, they could have just asked and I could have smiled




However, I'm not embarrased or even humiliated by the attention [negative and positve] that this picture is getting because, it's who I am. Yes, I'm a baptized Sikh woman with facial hair. Yes, I realize that my gender is often confused and I look different than most women. However, baptized Sikhs believe in the sacredness of this body - it is a gift that has been given to us by the Divine Being [which is genderless, actually] and, must keep it intact as a submission to the divine will. Just as a child doesn't reject the gift of his/her parents, Sikhs do not reject the body that has been given to us.




By crying 'mine, mine' and changing this body-tool, we are essentially living in ego and creating a seperateness between ourselves and the divinity within us. By transcending societal views of beauty, I believe that I can focus more on my actions. My attitude and thoughts and actions have more value in them than my body because I recognize that this body is just going to become ash in the end, so why fuss about it? When I die, no one is going to remember what I looked like, heck, my kids will forget my voice, and slowly, all physical memory will fade away. However, my impact and legacy will remain: and, by not focusing on the physical beauty, I have time to cultivate those inner virtues and hopefully, focus my life on creating change and progress for this world in any way I can. So, to me, my face isn't important but the smile and the happiness that lie behind the face are. :-)




So, if anyone sees me at OSU, please come up and say hello. I appreciate all of the comments here, both positive and less positive because I've gotten a better understanding of myself and others from this. Also, the yoga pants are quite comfortable and the Better Together tshirt is actually from Interfaith Youth Core, an organization that focuses on storytelling and engagement between different faiths.




I hope this explains everything a bit more, and I apologize for causing such confusion and uttering anything that hurt anyone.



http://www.reddit.co...ort=new#c6bmnym

I gotta admit, I was kinda floored by her response. Thoughtful, humble, eloquent, honest, self-confident and dignified. Like I said before, remarkable.
She could have hid from the world, lashed out in anger or embarrassment or any other understandable emotional ways, and yet she didn't. She even apologized at the end. Quite the remarkable display of class, in my opinion.
The things that really floors me is that the OP, with the passage of some time, and perhaps much condemnation from all her supporters, mixed with a bit of introspection, guilt and regret had this to say:
I don't know if anyone is gonna see this but OP here! It was a fairly ass.hole-ish thing to post this. After apologizing and talking with Balpreet I've seen how stupid this post was in the first place isn't funny at all. Yeah it's not something you see everyday but that doesn't make it funny. Hopefully you guys won't remember me as "that douchebag that posted the picture of the Sikh girl!"
Thanks! We all slip up sometimes, and admitting your mistakes is something ya gotta do. I definitely learned something about Sikhism, it's a very interesting religion
Not gonna lie, it was very disrespectful of me.
Finally, the OP made a new thread, titled: '
I posted the picture of a Sikh woman on here and I'd like to apologize'
And this was his post :
I posted this link a few days ago: http://www.reddit.co...lude_from_this/I know that this post ISN'T a funny post but I felt the need to apologize to the Sikhs, Balpreet, and anyone else I offended when I posted that picture. Put simply it was stupid. Making fun of people is funny to some but incredibly degrading to the people you're making fun of. It was an incredibly rude, judgmental, and ignorant thing to post./r/Funny wasn't the proper place to post this. Maybe /r/racism or /r/douchebagsofreddit or /r/intolerance would have been more appropriate. Reddit shouldn't be about putting people down, but a group of people sending cool, interesting, or funny things. Reddit's been in the news alot lately about a lot of cool things we've done, like a freaking AMA by the president. I'm sorry for being the part of reddit that is intolerant and douchebaggy. This isn't 4chan, or 9gag, or some other stupid website where people post things like I did. It's ???? reddit. Where some pretty amazing stuff has happened.I've read more about the Sikh faith and it was actually really interesting. It makes a whole lot of sense to work on having a legacy and not worrying about what you look like. I made that post for stupid internet points and I was ignorant.So reddit I'm sorry for being an asshole and for giving you negative publicity.Balpreet, I'm sorry for being a closed minded individual. You are a much better person than I amSikhs, I'm sorry for insulting your culture and way of life.Balpreet's faith in what she believes is astounding.EDIT: Forgot a word and realized r/douchebagsofreddit is actually a thing!
http://www.reddit.co...an_on_here_and/
Now this guy took a lot of well deserved heat, BUT, the remarkable thing, at least to me was that he not only apologized, but he talked to Balpreet and got to know her as a person, past the cosmetic appearance of what makes a person, and got to know her on a bit of a deeper level.
And I thought that was just really cool. There's a lesson here for all of us, i suppose. Perhaps if more of us were like Balpreet, or honestly, even like the douchebag OP who in his own way, became an example of the redeeming quality of "I'm sorry"....words too often which are so effin difficult to utter....especially to strangers, and especially to stranger on the interwebs.
I don't know, this made me feel good and I thought i'd share it with the hopes that you take something positive from either Balpreet, or the OP's eventual redemption, which I believe to be sincere, or the wonderful and inspired comments from the other users, total strangers mind you, who came to Balpreet's defence, who were genuinely inspired by her own inner strength and courage in addressing a thread aimed and created solely to make fun of her. I think about that last part, and all I can say is....remarkable.
Thanks for reading.
-
Post Script
.....because I think it has to be pointed out. As much as I admire Balpreet, and as much as one human can admire the example of another I do, at the end of the day she reminds me that religious extremists come in many forms and flavours. Not ever cutting any hair off your body because of a covenant made with a supernatural being, who didn't ask you to in the first place, simply demonstrates, that though some religious people may be as sweet as candy and amazing, they're still extremists and fanatics....and the world would be better off with the riddance of all forms of religious extremism...even the benign ones. I hope that as she transcends the hate, we as a species will eventually transcend the grip of fanatical and extreme religiousity.