Hello CDC!
So recently I have stopped playing hockey due to work and I basically continued my off season training in the gym. My workouts consist of a variety of running excercises for my cardio and a specific weight routine. Since running is my excercise of choice cardio-wise, I rarely hit the bike or elliptical.
Lately, I have experienced knee pain during and well after running, especially when I do interval training on a treadmill. I am not a graceful person by nature but I certainly do not stomp around. I am heavy for my height (5'8'', 190#), but I don't think it is too much stress for my knee as I have been working out and playing hockey and football my entire life until now and haven't had any similar problems. I am only 18 and do not have any health conditions.
It will take 3-4 days of not running for the pain to go away. I will edit with pictures of where the pain is occuring.I have an appointment next week but I wanted to know if you guys have had similar issues or know of a cause.
EDIT: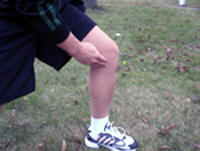 Where this guy is pointing. I have it in both knees. If I was to google it, I wouldn't know what muscles and all they are talking about.
Edited by JimLahey, 29 September 2012 - 06:07 PM.