Some of you might be aware of the practice of oral suction by rabbis after ritual circumcision, some of you might not.
http://abcnews.go.co...84#.UV93llfSlVV
Herpes Strikes Two More Infants After Ritual Circumcision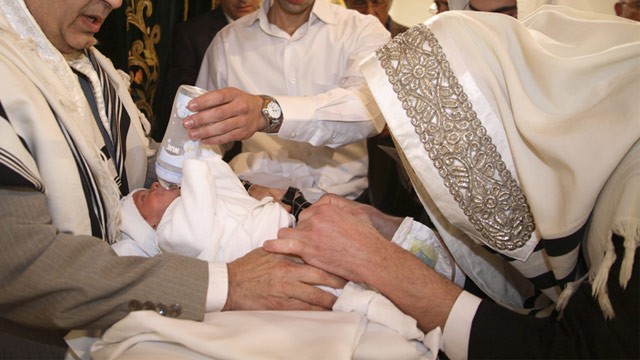 A Mohel performs a circumcision ceremony to an 8-day-old Jewish boy.

(Getty Images)
By
SUSAN DONALDSON JAMES
(
@SusanDJames
)
April 5, 2013
Two infants in the last three months in New York City's ultra-Orthodox Jewish community have been infected with herpes following a ritualcircumcision, according to the health department. The boys were not identified.
In the most controversial part of this version of the Jewish ritual, known as metzitzah b'peh, the practitioner, or mohel, places his mouth around the baby's penis to suck the blood to "cleanse" the wound.
One of the two infected babies developed a fever and lesion on its scrotum seven days after the circumcision, and tests for HSV-1 were positive, according to the health department.
Last year, the New York City Board of Health voted to require parents tosign a written consent that warns them of the risks of this practice. None of the parents of the two boys who were recently infected signed the form, according Jay Varma, deputy commissioner for disease control at theNew York City Department of Health and Mental Hygiene.
"First, these are serious infections in newborns and second, there is no safe way an individual can perform oral suction on an open wound," said Dr. William Schaffner, chair of preventive medicine at Vanderbilt University. "Third, these terrible infections are completely preventable. They should not occur in the 21st century with our scientific knowledge."


Neonatal herpes infections

can cause death or disability among infants, according to the Centers for Disease Control and Prevention.




Since 2000, there have been 13 cases of herpes associated with the ritual, including two deaths and two other babies with brain damage.

Varma said it was "too early to tell" if the babies will suffer long-term health consequences from the infection.
Some rabbis told ABCNews.com last year that they opposed on religious grounds the law requiring parents to sign a waiver, insisting it has been performed "tens of thousands of times a year" worldwide. They say safeguarding the life of a child is one of the religion's highest principles.
"This is the government forcing a rabbi practicing a religious ritual to tell his congregants it could hurt their child," Rabbi David Niederman, executive director of the Hasidic United Jewish Organization of Williamsburg, told ABCNews.com. "If, God forbid, there was a danger, we would be the first to stop the practice."
In January, a federal judge ruled against the group's legal maneuver to block the city policy.
"As enacted, the regulation does no more than ensure that parents can make an informed decision whether to grant or deny such consent," Judge Nami Reice Buchwald said at the time, according to the New York Daily News.
Some estimate that 70 percent of the general population is infected with the Type 1 herpes I (HSV-1), which can be transmitted from the mouth to the child, causing painful ulcers. It is different from Type 2 or genital herpes (HSV-2), which is a sexually transmitted disease and can cause deadly infections of the brain when a newborn passes through an infected birth canal.
"A herpes infection in a newborn baby has the risk of leading to severe illness and death," said Varma. "The reason is that the baby doesn't have the same fully developed immune system as an adult. Instead of staying in the genital area, it extends throughout different organs in the body."
The health department had issued alerts about the two latest cases -- on in January and one in March -- to urge all medical providers and laboratory staff to inquire about "direct oral suction" during a circumcision when evaluating newborn males for sepsis and to consider herpes.
"Social health policy is art of the possible and [New York City's] Bloomberg administration and the department of health worked with the [ultra-Orthodox] community to develop a policy that it hoped was both acceptable and effective," said infectious disease expert Schaffner. "That was the hope."




In 2003 and 2004, three babies, including a set of twins, were infected with Type 1 herpes; the cases were linked to circumcision, and one boy died. Another died in 2010. In the last decade, 13 babies in the city have contracted the virus, and two have had brain damage, according to health officials. All were circumcised by the metzitzah b'peh method.




The modern Jewish community uses a sterile aspiration device or pipette to clean the wound in a circumcision. About two-thirds of boys born in New York City's Hasidic communities are circumcised in the oral suction manner, according to Rabbi David Zwiebel, executive vice president of Agudath Israel of America.

The more than 5,000-year-old religious practice of circumcision is performed during a Jewish religious ceremony known as the bris, which is observed by Jews of all denominations around the world.
"It's clear the implementation of policy is not completely effective and that it resulted in serious, but preventable infections," he said. "Perhaps the policy needs to be revisited."
Varma said changing traditional practices in New York's ultra-Orthodox community will take time.
"We developed this law ... to balance the right of people to practice religion with the requirements of a health agency to protect everybody, especially the most vulnerable.
"We require their cooperation and it's a challenge," said Varma.
The health department could take no action against the rabbi who performed the circumcision because the parents would not reveal his identity.
[/font][/font]
Edited by Jai604, 08 April 2013 - 09:02 PM.