I didn't see this posted anywhere else, and I did a search too.
From thescore.com:
We've known for much of the summer that the NHL and NHLPA would, at some point, come to an agreement to reduce the size of goaltenders pads in an effort to increase scoring. Per InGoal Magazine editor and NHL.com writer Kevin Woodley, it appears that the motion has passed and the specifics are in:
New York Rangers goaltender, and probably the best puck stopper in the world at the moment, Henrik Lundqvist already ordered his new shorter pads. He shared a photo of them in Instagram on Wednesday, and expressed uncertainty about how the small equipment might impact his on-ice effectiveness.
"Hopefully I'll be faster..
" quipped King Henrik. Though we finally have the specifics of the equipment size reduction, these changes shouldn't be seen as final or permanent. Kevin Woodley, for example, expects the kneepads issue to linger into next summer: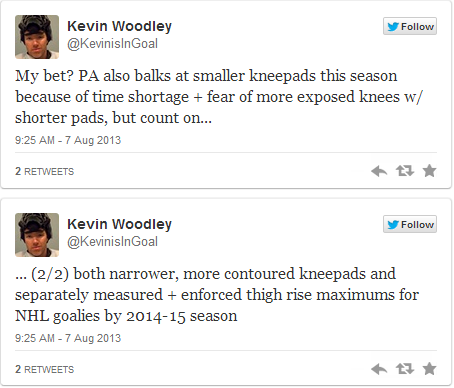 We might also mention that the NHL has attempted to shrink goalie pads consistently over the past decade. The league amended the rules as they pertain to the regulation size of goalie pads in 2003 and again in 2010 in an effort to boost scoring. Needless to say, we haven't heard the last of this story.
Read more at InGoalMag.com.
Interesting. I wonder how other goaltenders will react.
http://thescore.com/...-size-reduction
Edited by ajhockey, 07 August 2013 - 03:47 PM.