A second line left wing. That is what Mason Raymond is, that is what the Canucks need. Raymond already a part of the team and a suitable role for that position, so it's natural the Canucks pursue resigning him. Raymond is going through arbitration now, because he feels he can fetch more dollars than what he was offered. The rumblings are that his agent will present a strong case for making upto 4 million per year. Is that worth his value? Should Canucks decide to walk away from him, let's take a look at a list of players who can realistically replace him.
Please note: I am including UFA's AND RFA's, because both categories are plausible signings. The list is in no specific order! My price range is no one who I think would make more than 3 million dollars.
Paul Kariya: 43 P in 75 GP. This has to be his worse point per game year yet, which makes him a viable option for a low-balled contract. Could thrive one last time in the right system, if conditioned enough.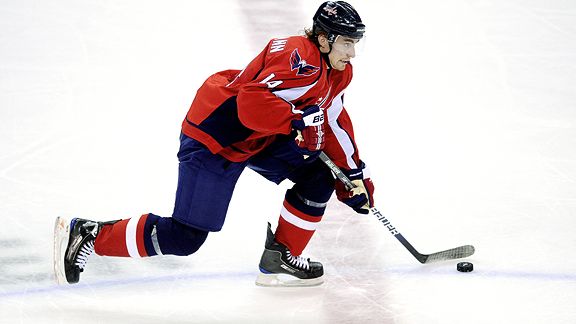 Tomas Fleischmann: 51 P in 69 GP. Injury problems have plagued this young skater's career, but this guy can play either wing, and has been played as a center with the Caps for part of last year.
Slava Kozlov: 26 P in 55 GP. This unpredictable veteran has had seasons that range from just over a point per game to the stat that is beside his name. He is 38, so this may just be his swan song, instead of an unfocused year.
James Neal: 55 P in 78 GP. Only 22, and in just his second season of the NHL. I would speculate the 3 million limit I've set would be a great deal to catch Neal under. He will either continue or improve his game next year.
Jere Lehtinen: 17 P in 58 GP. More of the same mold as Kozlov. An old, streaky player, and throw in injury problems too. With that being said, this 37 year old fetched 37 P in 48 GP just three years ago. 50 points in a full season is not out of reach for Jere's last gasp.
Fabian Brunnstrom: 11 P in 44 GP. Given the past drama surrounding Canucks trying to sign him for his rookie NHL season, and his disappointing work once arrived in the NHL with the Dallas Stars, this player may not ever be an option. Worth noting, as he is skilled and capable, IF disciplined. He tallied 29 P in 59 GP 2 years ago in his rookie season.
Alexei Ponikarovsky: 50 P in 77 GP. Poni boy is capable of 20 goals per season, as accomplished with the Leafs for multiple seasons. It seems like forever since he winged to Mats Sundin, but he is only 30.
Ruslan Fedotenko: 30 P in 80 GP. Doesn't look too good? Well he accomplished 39 P in 65 GP the year before. He has only reached 40 points once in his career, even while playing aside Malkin and Crosby. He is 31 with room for improvement, but Fedz may be better suited for a third line, or a team with lesser offensive power than the Canucks.
Matt Moulson: 48 P in 82 GP. Having a breakout season, Matt has finally stuck in the NHL for a full season at the age of 26. This late bloomer shouldn't be overlooked.
Fredik Modin: 11 P in 44 GP. The 35 year old's best stat year was 57 P in 2004 with Tamba Bay. He has seen a natural decline because of age though.
Alexander Frolov: 51 P in 81 GP. This playmaker who is arguably in his prime right now, will surely fetch the 3 million limit I've set if I am too include him in this list.
That's about it for my scouting report, alot of older players who probably won't even be looked at, and alot of RFA's that will probably be resigned by their current team. However they are all possibilities and all capable of being productive second liners playing alongside Kesler and Samuelsson.
Who do you like the looks of? Have another suggestion? Leave a comment and let me know!