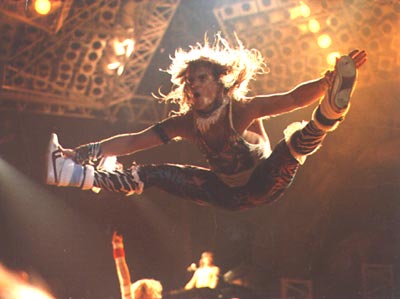 So the Canucks are set to play their first home game after going on the road for four. Since we'll be seeing a game in GM Place, chances are good we should be hearing a now familiar sound should the Canucks score a goal.
I am, of course, talking about the Woo. Started up by the Canucks sound guy, DJ Dave, the 'Woo' was apparently some sort of in-joke involving a soundboard based off of 'Runnin' With The Devil' by the David Lee Roth fronted version of Van Halen. Despite widespread belief, it's not an imitation of wrestler Ric Flair's infamous 'Woo!' which has
down in Carolina for Hurricanes games, (Flair himself calls Charlotte, NC home.) I originally thought it was a tribute to the woos Alex Burrows and some other members of the Canucks were doing last season after wins, but apparently not.
Lots of people hate the Woo. They are wrong, and what's worse, they hate everything that is good and pure in the world. They are people of questionable moral fibre and I doubt their commitment to
err, I mean, the Canucks. But that's not important. What is important is that the Woo is something that I like and that it's something that may actually be useful for the Canucks.
Useful to the Canucks. Okay, what the hell am I talking about here?
I'm a big proponent of crowd interaction at sporting events. Soccer games probably have the best instance of this, with chants, hooligans and sometimes even riots breaking out (and yet HOCKEY is the sport with a 'violent' reputation…) due to fans going crazy.
I think it can be useful for a team to have the crowd behind them, sometimes it can spark the team. Other times, it can intimidate the opposing team. Folks have heard how 'hard' it is for teams to enter the Pengrowth Saddledome: a bunch of people in Red and some yahoo with a trumpet apparently makes for an 'intense atmosphere.'
There's also the Bell Centre, where some players get intensely viewed by the Montreal Canadiens faithful. There's also
they've got going, as well as other things like booing the national anthem and generally being loud as hell.
Finally, for any diehard Canuck fan, the Fratellis will forever remain a hated group due to 'Chelsea Dagger', which plunged through the hearts of oh-so-many Canucks fans during the playoffs last year.
For those of you who hate the woo, think of how much the teams coming in to play at GM Place hate hearing the fans go 'Woo' every time the Canucks score. Sure, these are professionals, who have put up with jeering and booing and the such, but the woo is something different, which makes it harder to ignore, especially when it's being done in full force by the fans in GM Place. It's just one out of many, many things that Canucks fans are doing to make playing in GM Place that much harder. Because honestly, GM Place SHOULD be a pain in the donkey for visiting teams and they should be getting it from all angles: on the ice, in the stands, maybe taking a page out of the Ottawa Senators and poisoning opponents pregame meals. Not sure if David Spreight would be on board with having his meals interfered with, though.
There's the annoying (yet unimaginative) opposing team's goalie chants, a trend that started in the http://www.youtube.com/watch?v=4JeMfuzFZro, who has had a bit of a reputation for being a choker in the playoffs. Generally, this chant was reserved for the Canucks own goaltenders, but with the arrival of Luongo, fans have been able to rage against the other team. It's a welcome change of pace.
There's also the LOUUUUU chant, made whenever Luongo makes a big save. This has been going on pretty much since Luongo's arrived in Vancouver, so it's getting ever so slightly passe, but it's great to just LOUUUUU out the opposition whenever they get a chance.
More recently, there have been the http://www.youtube.com/watch?v=6-SrXKlHZFo. Inspired from It's Always Sunny In Philadelphia, the Green Men have been taunting and baiting players who go to the penalty box. Dave Scatchard, as shown above, was annoyed with their gesticulations and ended up throwing a towel on top of the box camera. While they won't be able to make each and every game, when they're there, they're dynamite. Of course, Vancouver has had some notable fans getting attention at GM Place, including the Clapper, Heavy Eric (proof that there are worse things than the Woo) and MaximAfinogenov's http://www.youtube.com/watch?v=nqSMftSKnIg.
Finally, http://www.youtube.com/watch?v=a8oBzKfP2jc, but that's only for the playoffs. Having an entire arena waving white towels is a great visual and again, is a great show of support by the fans.
Mixed in amidst all of that, the Woo becomes yet another weapon in the crowd's arsenal. Given that GM Place can be deathly quiet and, dare I say it, boring at times, it's great to see SOME signs of life coming from fans at games. Especially ones that aren't coming from a megacorp like Pepsi. Who knows? Maybe the Woo detractors can come up with something else.
If not, well, there's some other things you can do with the Woo, besides the simple David Lee Roth 'Woo' that DJ Dave plays now. Here's some other famous 'woos' that could be incorporated into the antics at GM Place: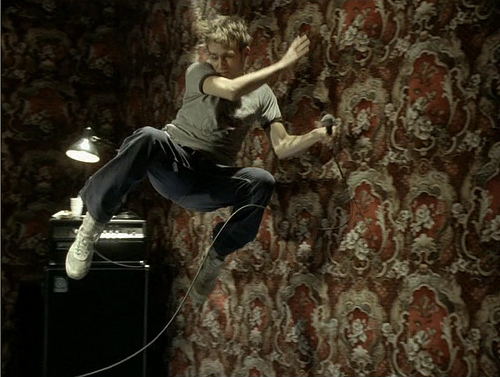 Blur –
'Woo Hoo' instead of just 'Woo' could make for a nice break from games and could be used for big goals, like ties or OT goals. Most people know the song and would be able to WOO HOO along rather easily.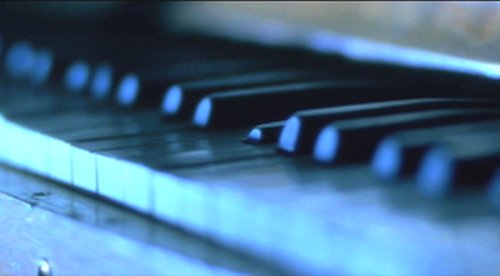 Transplants –
Another 'Woo Hoo' song, but another upbeat one. It's also sung a few times in a row, so it could make for some nice call and response moments at games.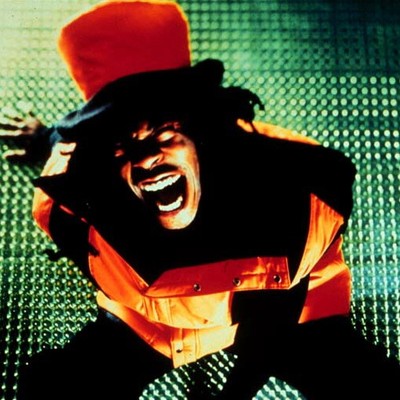 Busta Rhymes – (Woo Ha) Got You All In Check
For the rap fans and also because Busta is awesome. Had I any technical proficency, I'd throw a loop of the song's title with Willie Mitchell's check on Jonathan Toews up on the Jumbotron. It'd be great for Canucks/Hawks games, at the very least!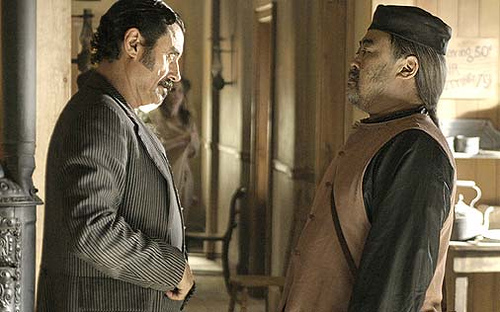 Deadwood – Mr. Wu
The leader of the Chinese community in the show Deadwood, Mr. Wu only knows three English phrases: "Swedgen" (his mispronounced name of main character Al Swearengen), "San Francisco" and one other term that isn't safe for the little ones. On one hand, he'd be great when the Canucks get scored on, on the other, it's probably too vulgar for an NHL arena.
John Woo
The famous director could direct some jumbotron clips during stoppages in play. I think even the most vehement and vocal woo hater could get behind this particular Woo. Fin squaring off against Harvey the Hound, Woo-style? Tell me that woo-uldn't be awesome.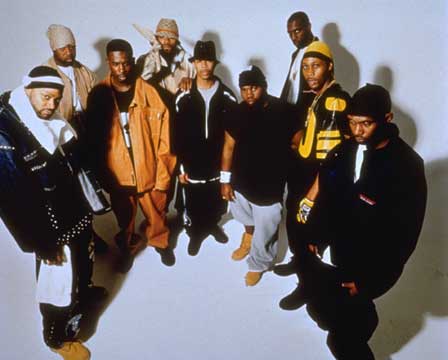 Wu-Tang Clan
Anaheim's got Snoop Dogg, who apparently is a fan of the Ducks. Fitting with the 'Woo' theme of this post, why not go one better and bring in the Wu-Tang Clan?
See? From the looks of it, there's a 'Woo' for just about anyone. I'm sure there's folks out there who have some other 'woos' I may be forgetting about. If so, post 'em here!
Trevor Presiloski is a Westerner stuck out East in Toronto. You can check out his website, which features more coverage on the Canucks, at http://www.trevorpresiloski.com. He can also be found over on Twitter at twitter.com/nettrashcan. He is also known as Mr. Fahrenheit, because he travels at the speed of light.