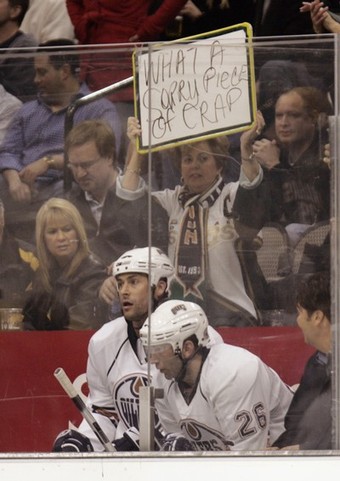 Lots of talk being made about Edmonton radio personality Dan Tencer's postgame comments following the Oilers loss to the Canucks Wednesday night. Tencer, in what he described as his frustration taking over due to what was a poorly officiated game that saw some weak calls made against the Oilers (something which I did note and comment on in my postscript), commented that the Canucks have been mediocre and that their fanbase is cocky. Going the predictable route of an Oilers fan who is trying to win an argument involving his team, he was quick to make mention of the Canucks lack of championships and that he doesn't understand why the Canucks have a sense of entitlement.
Let me start off by saying fair enough to Tencer. As much as I hate admitting it, he is right that the Canucks have been a very mediocre franchise for pretty much their inception. Looking back at things, there have been some very dark days for the Canucks faithful. That doesn't mean the team is doomed to forever be a bad club, though, and it's an insinuation that bothered me when Tencer pitched his on-air fit.
You'll notice that I've been using a lot of past tense there. Sorry. It tends to happen when talking about Edmonton, a team that desperately wants to go back to the halcyon days of the 1980s, given how brutal things are these days. Now, nothing against the Oilers, those teams from the 80s are a thing of legend and Oilers fans have every right to be proud of their team and their history. That said, you have to wonder how long any past capital they've built up is good for and if there comes a time where you have to stop dwelling on the past and dealing with the present.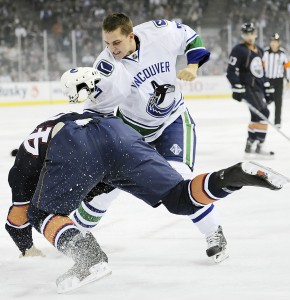 To clarify, I'm talking about both the Canucks and the Oilers here, teams that appear to be going in very different directions right now. I honestly can't think of a better time where everything related to the Canucks has been looking so good: they have one of the best goalies in the league locked up long term, a solid forward core with the Sedins, Kesler and Burrows, along with some bright spots in the system in the likes of players like Cody Hodgson, Jordan Schroeder, Kevin Connauton and Anton Rodin.
After hitting a bit of a rough patch in the 90s and a somewhat messy ownership battle this decade, the Canucks have become one of the NHL's leading teams, being ranked fifth in revenue, behind only the Leafs, Rangers, Canadiens and Red Wings, all Original Six clubs, all teams located in the population-dense East and all considered to be financial juggernauts of the NHL. That the Canucks are right up there in terms of generating revenue means that they have some weight to throw behind their words now, something which they really haven't had the luxury of doing before now.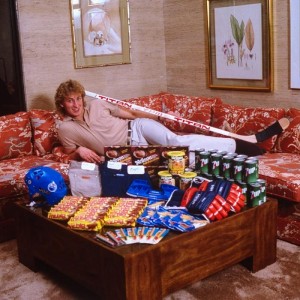 The Oilers, in comparison, have been on a long, painful decline since selling Wayne Gretzky to the Los Angeles Kings, a move that they were essentially forced to make. Like all Canadian teams, they were in serious financial troubles in the 90s, almost being relocated to Houston in 1998 (sidenote: where was Gary Bettman to protect the Oilers then?), and have only remedied things recently with passionate (and rich) owner Daryl Katz. Prior to Katz's arrival, the Oilers had trouble retaining talent (see: Gretzky, but also Coffey, Guerin, Weight, Arnott, etc.) With Katz, though, things are looking good as the Oilers have financial stability and should be able to retain young talent such as Jordan Eberle and Magnus Svensson-Paarjavi, both players who have bright futures ahead of them.
Lowe himself represents my point about how the past can only mean (and do) so much. The Oilers, I would argue, have suffered with their focus on the past by rewarding past players with jobs within the organization and no one better exemplified that than Lowe, whose tenure included being the Dallas Stars' whipping boy in the 90s and a laughingstock in the 00s.
He was quick to complain (note the use of that word) about how hard done the Oilers were as a small market team (they are currently the league's smallest market.) You'll notice that the Nashville Predators, also a small market team and operate under a self-imposed cap of $45 million or so, are routinely making the playoffs and seem to be doing fine. There was also Lowe's publicized feud with Brian Burke as well the complaints he made regarding Michael Nylander not signing with the club, to name a few of his mishaps while GM of the Oilers. It's strange that Tencer, in his blog post, would quote a Damien Cox article making fun of the Canucks voicing their concerns when the Oilers organization have been known to do the same. Regardless, Lowe's tenure as GM was fraught with many lowlights, excuses and complaints and saw him getting replaced by former Canucks executive Steve Tambellini. Additionally, Oiler alumni Craig MacTavish, seen by fans as being another inept hire and a move that rewarded faithful alumni, was given his walking papers and former Canucks coach Pat Quinn came aboard to try and make sense of the Oilers.
Sadly, Nylander is only one of many players who have had a problem in staying with Edmonton, as apparently the allure of playing for a team that won a bunch twenty years ago doesn't have the same charm to outsiders as it does to residents of Edmonton. In addition to Nylander's snub, there was also Chris Pronger demanding a trade for unspecified reasons and the efforts from this past summer which saw the Oilers beg and plead for Dany Heatley to accept a trade to Edmonton, a trade which he ultimately blocked and has seen him get booed when the San Jose Sharks come to play in the Oilers barn. This has become so problematic, that the Oilers ended up having to make a DVD and then send it out to the agents of NHL players in an attempt to try and woo some players to come and sign with them. Ouch.
And Tencer has the nerve to say Canucks fans are self-entitled? There's a saying about people in glass houses that fits here.
Additionally, the Oilers struggled in the post-season from 1992, where they lost to Chicago in the Conference finals, all the way to 2006, where they went on their Cinderella Cup Run before ultimately losing to the Carolina Hurricanes. In between, the Oilers went long stretches without making the playoffs and are set to make it a fourth consecutive year if things continue to be ugly here. As the years go by, the 80s are becoming ever more distant and you could ask where exactly do Oilers fans get off telling anyone how they should feel about their club, given that they haven't been relevant for the better part of 2 decades.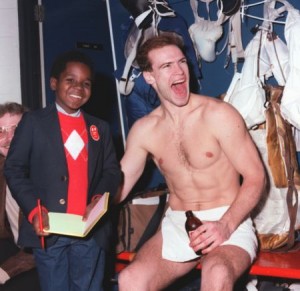 Yes, you can dwell on the past. Reward players from the 'glory days' while making excuses, while laughing at team who are making a conscious effort to improve and put their bad days behind them. Point to the Canucks failures, mock them for taking the steps to become one of the league's leading franchises. Complain about the diving while having a good on-air cry. Maybe eat a carton of rocky road and schedule a Sex In The City marathon, if it'll make you feel better.
Then you can sit back and remember when Kim Mitchell and Honeymoon Suite were seen as the best in rock and where mullets were seen outside of Edmonton's city limits. When Gretzky was on the team and things were looking oh so good. After all, things aren't looking that great now, so why not look back fondly on what was?
Me? I'd rather focus on the present, which sees the Canucks as a team on the verge of becoming a great franchise (they just need to take things to the next level) while the Oilers are on the verge of slipping completely into irrelevance (their bright future and potential lottery pick notwithstanding.) If that makes me cocky, to be happy for my team and enjoying their success, then all I have to say is that I'm glad I wasn't an Oilers fan back in the 80s, as I figure I'd be downright insufferable.
But, okay. Let's take a look back at the glory days of the Oilers. Here's a favorite clip of mine:
http://www.youtube.c...h?v=3tEFm6mpbqo
Those were the days.