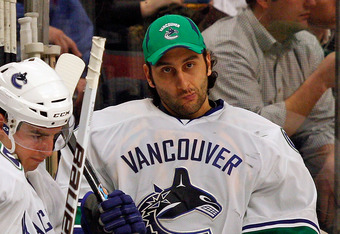 You don't have to be a rocket scientist to see Luongo is struggling with his game. You can just tell by the way he moves and his body movement that his confidence is just not there. What do you do about that? Sit him. Am I crazy? Umm, maybe...maybe not.
There are 8 games left in the season. Playoffs looming in the horizon for the team. What's more important? What seed you get? Or having a rested, ready to go Olympian goalie? I choose the 2nd option, but that doesn't mean you can't have both.
Raycroft has only started 10 games this season in which he played the full 60 minutes, mostly because of Luongo being injured with a rib injury. If he hadn't gotten injured, Raycroft would have probably started around 6-8 games. There's seriously something wrong with that. Good job Alain, kill your goalie.
It's getting pretty normal seeing Raycroft getting the nod to play out the rest of the game, along with those goals on Luongo that a junior goalie could save. I am not, however, blaming Luongo on this. I'm going to go ahead and blame the guy in the suit chewing gum. Not only is Luongo playing way too many games, he also played all but 2 games in the Olympics. No breaks son.
So what do I propose? As the title says, split the last 8 games right down the middle between Lui and Raycroft. But knowing AV, Raycroft will only play 1 more game from now till the end of the season on the last back to back games in April, either against the Kings or the Ducks and have Luongo get injured playing the last 4 games.